Release Notes is our monthly update that highlights recent product improvements we've made so you can easily stay up to date on what's new.
What's New: Beacon and Live Chat
Accessibility updates
From keyboard interactions to focus states, to colors and contrasts, we made a bunch of updates to the Beacon embed for a more inclusive design. Beacon is now best in class for people with accessibility needs.
Docs Suggestions: Relative URLs
The Content Suggestions feature now supports relative URLs. This is helpful when you're deploying Beacon on multiple domains with the same URL structure.

Saved Replies for Chat
We know that sometimes, speed is everything when you're chatting with customers. Which is why we've redesigned the Saved Replies feature from the ground up to bring your favorite text snippets to live chat. Creating saved replies for chat is easy. You'll be able to copy existing replies in a single click or start from scratch to customize each snippet.
We're still rolling this out to everyone. If you don't see the new Saved Replies feature yet, hang tight — you should have it by the end of the month!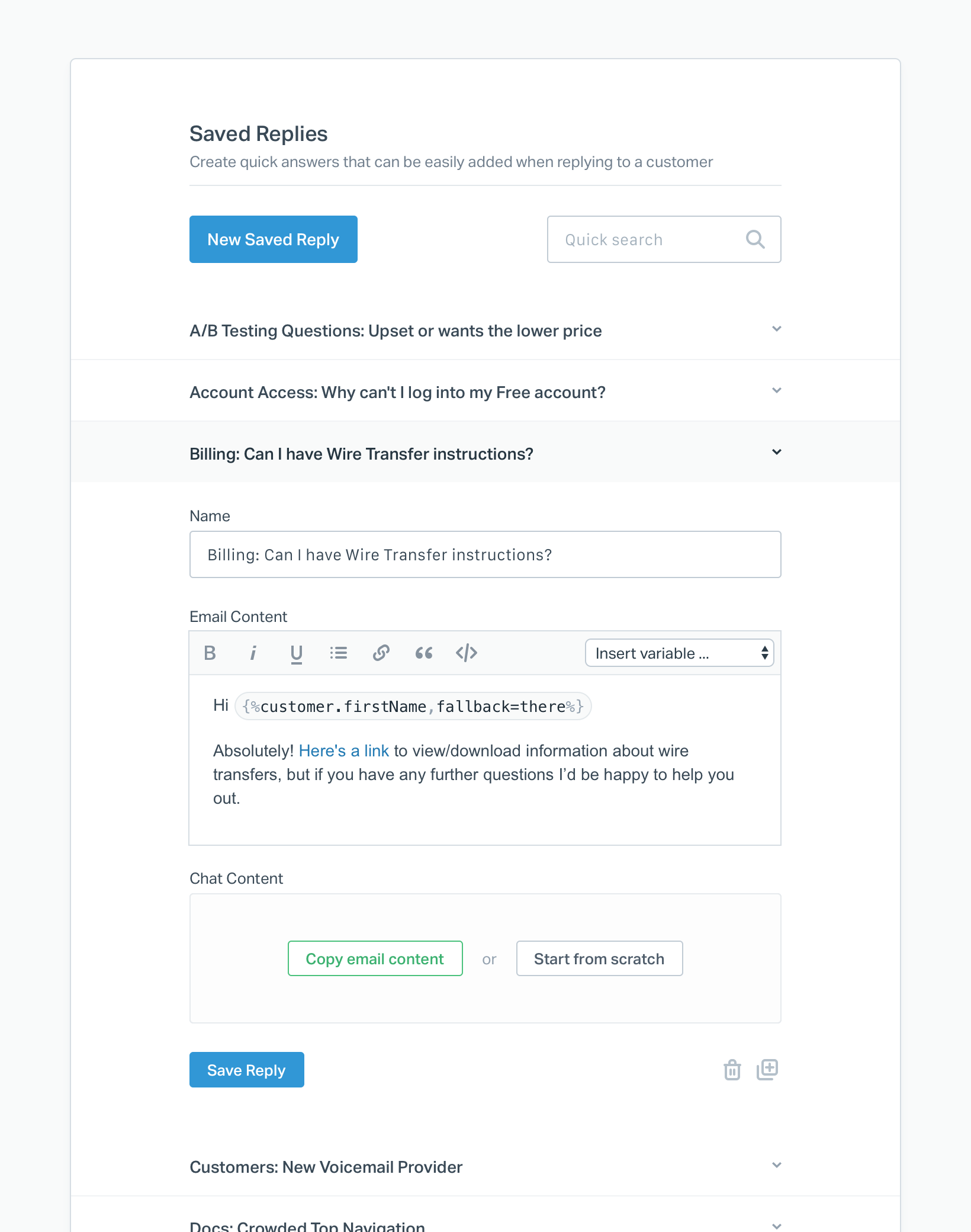 When you're proud of your prose or think your reply might be helpful for the rest of the team, you can create new saved replies directly from the chat interface. New replies are available to use right away!
MORE NEW STUFF
iOS Updates
You'll be pleased to know that the iOS app now supports the new Reply as Alias and Mailbox Auto Bcc features. And we updated the app so it looks and works great on your fancy new iPads.
New Integration: AppFollow
AppFollow allows you to reply to app reviews faster, resolve user problems more effectively, and share important insights with a product team. By connecting AppFollow with Help Scout, you can easily see user reviews and reply to them in real time without leaving Help Scout.
Customer Team Roundup 💪 ✨
In support, little things can make a big difference — even seemingly small changes can save your whole team some precious time. In this section, we highlight the maybe-overlooked (but very powerful!) changes that are making our own customer champions cheer.
Up this month: Shaun writes in from Southampton, England.
Organizing never felt so good!
Back in June, I gave you the heads up on how to keep track of priority customers in your Help Scout account, ensuring they get a timely response. What about conversations that live outside of that priority bubble and have been sitting for a few hours longer than you'd like?
To keep track of those convos, check out this workflow. It's designed to look for conversations older than four hours that have been waiting for a reply from your team. The workflow will then highlight the number of convos waiting for a response in a new folder on the sidebar, giving you a quick and easy way to prioritize your queue. Read more about folders here, and get those customers served!
Have a great holiday season. 🎄
It's almost the end of the year, when everyone should step back and reflect on the year they've had. If you're like me and work with rockstars, you'll want to know who's available when a holiday falls.
To keep everyone on the same page, spin up a tracker via Google Sheets to keep your team (and company) in the loop on what's happening on those special days. Here's an example to get started, but whatever you come up with should encourage people to step away once in awhile.🙂
Before you go
Upcoming events
Getting started with Help Scout
New to Help Scout? Get a full tour of the app and get all your questions answered with one of our resident customer champions.