It's tough to have a balanced perspective on your team's support metrics without accounting for the magic factor: customer happiness. Today we've released a few new features set on putting happiness front and center.
Satisfaction Ratings
All paying accounts now have single-click access to Satisfaction Ratings for each mailbox. You can turn them on from your mailbox settings in a single click. Rating links are added automatically to the bottom of your signature.
When customers rate a reply, they'll see a screen like this and be able to provide additional comments: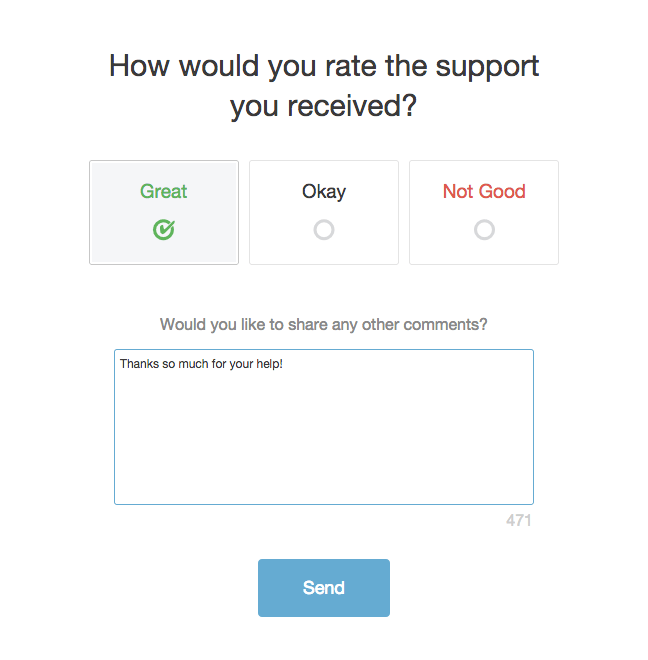 The Happiness Report
So where can you see all the ratings data? We've created a new report for it, appropriately called the Happiness Report. All the ratings and comments are available and can easily be sorted/filtered.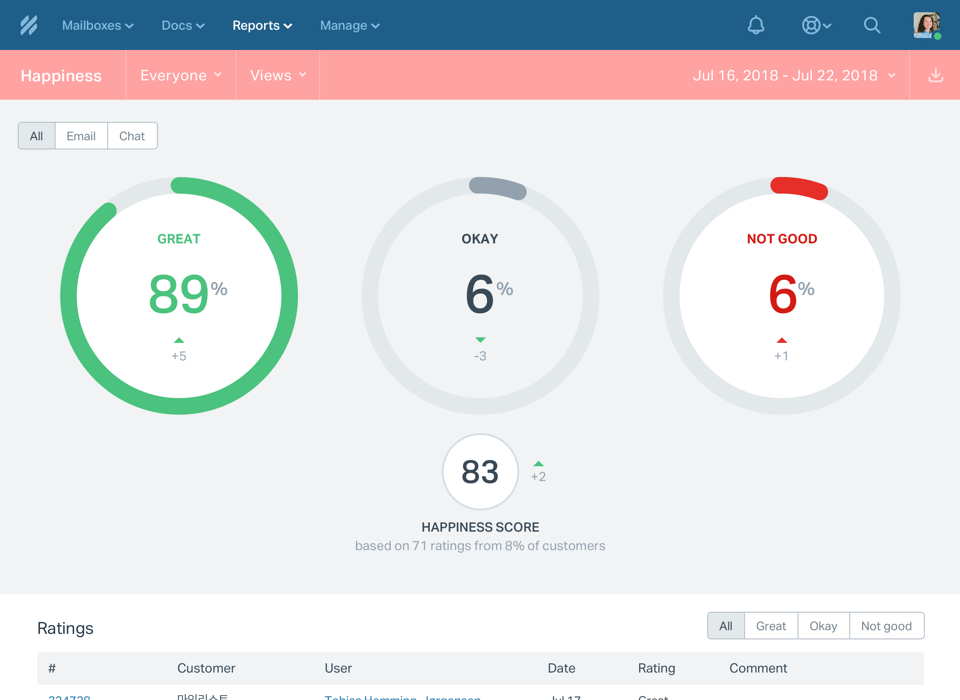 Happiness data is also built right into the User report. When you want to drill down on ratings for a specific team member, just click the Happiness tab in their report and you'll get all the same data as the high-level Happiness report.
You'll also note we've introduced a new metric called Happiness Score. It's calculated much like NPS. You take the % of Great ratings and subtract the % of Not Good ratings to get the Happiness Score.
So let's say your percentages are as follows: 85% Great, 10% Okay, 5% Not Good. Your Happiness Score would be 85 - 5, which is 80.
Push Ratings to your Team Chat
We updated all our team chat Apps (Campfire, Hall, HipChat, Kato and Slack) so that you can push Satisfaction Ratings to a room as they come in. To turn it on, open the App's settings in Help Scout and check the box labeled, "Satisfaction Rating Received."
The Docs Report
Docs, the Help Scout knowledge base, is a product meant to create customer happiness via an entirely different mechanism: great documentation! While Google Analytics and other metrics providers can help, we created a new Docs report to provide instant insights about improving your documentation.
Now you'll understand what articles and categories are doing well. You'll also understand what people are searching for, which will help you know what topics to write about and optimize existing articles to rank for the right things.
Reminder: there is no end-all be-all support metric
We love data at Help Scout and it's our goal to provide your team with best-in-class reporting. That said, it's critical for the data to be presented in an un-opinionated, non-competitive manner.
We believe there is no single support metric that tells the whole story — not happiness, not resolved count, not response time. Great support teams and team managers learn to look at all the data and build a story from it. Only when you have the full story can you measure performance within the context of team and company goals.
Since every company varies in terms of size, business model and values, crafting the full story looks different in nearly every case. Our goal is to give you the raw data without expressing an opinion about the story it tells. Otherwise we risk misaligning motivations on the team.
With these features, you should have all the data you need to measure your team's support success. Stay tuned for tomorrow's post for another perspective on leveraging customer happiness in your business.