As a member of the commercial cleaning industry, we do a lot of customer outreach. To uphold our 100% Happiness Guarantee, we want to provide a personal touch to each customer interaction while ensuring that our support team can move quickly. That's where the Saved Replies feature comes into play.
Using Saved Replies, we're able to quickly construct and send emails to clients based on their respective situations. For example, one of our commonly-used Saved Replies is when a client's property records don't match the number of bedrooms and bathrooms in a home, so we'll send them an email explaining how we do our pricing with larger homes. Or when a customer books a regular cleaning when it should be a deep cleaning, we have a Saved Reply that explains the benefits of a deep cleaning for their initial visit and gives them a quote as well.
Saved Replies allows you to keep common answers to frequently asked questions so that you can pop them into your customer conversations. Unlike other apps that only allow an email template OR a customized response, Saved Replies lets you add in an answer to a commonly asked question as a part of the template.
This is where Traffic Cop comes in handy as well. :) Overall, with time-sensitive issues such as lockouts and rescheduling, we really love how Notes help us stay on top of what's going on in each individual client's thread.
Our Saved Replies setup
There are two ways to create a Saved Reply with Help Scout:
Write one from scratch on the mailbox Settings page.
Save a reply directly in the editor.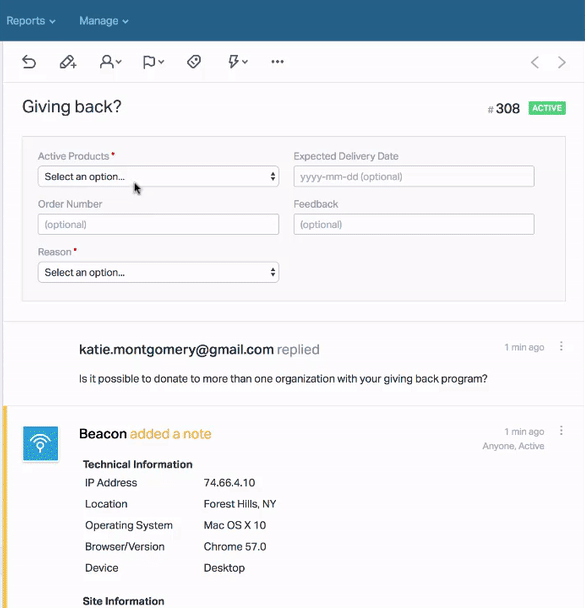 If you want to learn more, here is an in-depth guide on Saved Replies.
Download Your Free Guide
From your initial search to final purchase and setup, this (unbiased) resource will help make choosing any help desk easier.