When you have multiple ways of communicating with your team, it's important to avoid the silo effect. To mitigate this pitfall, we enabled Help Scout's integration with Slack to centralize and streamline information across teams.
This is especially handy for keeping non-support teammates in the loop since we can send Help Scout conversations to specific channels in Slack. For example, when a customer leaves a happiness score, you can set it up to automatically post to a shared channel on Slack, so the whole team gets to celebrate when customers leave positive reviews.
And if something gets shared where a client didn't get the help they need, we can quickly share the challenges they are experiencing and discuss what to do next.
How to set up Help Scout Slack workflow
You can create this workflow when you set up the Slack app in Help Scout.
Make sure the "Satisfaction Rating Received" Event is checked
Choose the Mailbox you want
Select the Channel where you want to post the ratings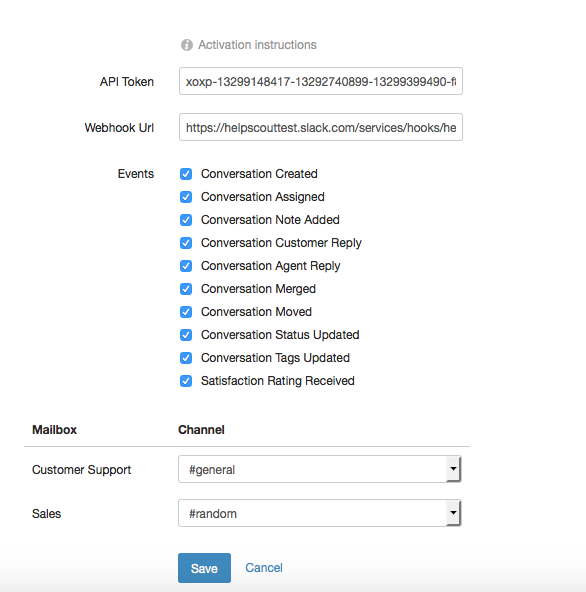 If you're worried about distracting your team with too many Slack notifications, we found that this particular functionality ended up being an ideal volume for us. It's not going to be distracting everyone every five minutes, but at the same time, the whole company gets the pulse of what's going on in our support inbox. For teammates who are not front-facing, it's a boost to tangibly see when a customer is really happy with what they've done in a meaningful way.

How to set up the Slack integration
Complete setup instructions for Help Scout's Slack integration:
Log in to Slack and add Help Scout as an integration
Grab the API Token and Webhook URL, and head back over to Help Scout
Install the Slack app in Help Scout and plug in the API Token and Webhook URL
Customize the events you would like shared
You're all set!
Download Your Free Guide
From your initial search to final purchase and setup, this (unbiased) resource will help make choosing any help desk easier.