Picture this: You arrive home to the joyous surprise of discovering a handwritten card — real mail! — hidden amongst the mound of daily junk mail. Woohoo!
We are card-carrying members of the Snail Mail Fan Club and we suspect you are, too. For the small amount of effort a handwritten thank-you note takes, it's amazing the extent to which you can brighten the recipient's day by sending one — and if that recipient happens to be your customer, the indisputable return on investment you'll see when you thank your customers.
Free PDF: 25 Ways to Thank Your Customers
Ready to turn customers into advocates? Download this handy guide to building a loyal customer base.
So from one Snail Mail Lover to another: Go ahead. Make your customer's day.
The ROI of thank-you notes
If it feels icky to acknowledge the ulterior motives behind showing gratitude, remember that you're running a business, and without your customers, you wouldn't have a business to run. Of course you appreciate them, and want them to return and recommend you. Handwritten thank-you letters are a proven (and relatively painless) way to go about earning customer loyalty.
In one experiment that aimed to increase personal contact between troubled youths and the case managers helping them, the case managers and their supervisors received weekly thank-you cards sent from the homes they visited. These thank-yous prompted an increase from 43 percent of youths receiving a weekly visit to 78 percent. When the thank-you cards stopped, the visits dropped back down to 50 percent.
In another experiment, the staff of Donors Choose, a platform that allows givers to fund the public school classroom projects of their choice, sent hand-written thank-yous to half of all recent first-time donors — the other half didn't receive a note. A whopping 38 percent of people who received a thank-you note were more likely to give again. The organization now works handwritten thank-you notes into their business model, since donors who opt in to receiving "those sentimental, hand-crafted, physically mailed, personalized collections of gratitude" increase their average annual donation amount by $41, which translates to more than $3 million in additional donations per year.
As Robert Cialdini explains in his bestselling book Influence: The Psychology of Persuasion, the principle of reciprocity is a powerful motivator. By nature, we don't like to feel indebted to others, so if someone gives us something, we're wired to give back. When customers receive a token of appreciation as heartfelt as a handwritten thank-you note, they feel compelled to return the favor — ideally with repeat business, and public advocacy of your product or service.
The little things that create a "wow factor" for your customers are worth the investment several times over.
Thank-you card do's and don'ts
Here are a few reminders to ensure your efforts reap the most positive response possible:
Don't use red pen! It's the equivalent of sending a "shouting" email in ALL CAPS. Blue or black ink is ideal. But if you're a purple glitter gel pen kind of person … well, your sparkly message will probably make your customer smile.
Do use note cards or stationery that reflect your business. If you're a vet clinic, keep it playful with paw-printed cards. If you're an architectural firm, reflect your image with minimalist, artful cards. A postcard does the trick, too.
Don't make excuses for your handwriting! "Good" penmanship is overrated — as long as your note is legible, that's what matters. Your handwriting is unique, which makes a personal note feel even more special and "real" to the recipient.
Do respond in a timely fashion. It's called "snail mail" for a reason, but it's best not to wait so long that your customer forgets having done the thing you're thanking them for.
Don't include anything overly business-y or self-promotional, like coupons or business cards — the point here is to convey genuine gratitude, not to promote your business (that happens as a natural side effect). Stickers are A-OK, though.
Do showcase your company's personality! If smiley faces and emoticons (or cat doodles, or a crayon drawing from your kid, or …) are in line with your brand, by all means, have at 'em. Mat Patterson and Emily Triplett Lentz attend a thank-you-note-sending party at Help Scout HQ
Do include a little something extra when the situation merits it! Send a token of appreciation along with your note. Depending on the occasion, we send a book, stickers, a T-shirt or even baked goods.
Don't be tempted to mimic Someecards' witticisms in the content of your card. In case you're not familiar, their e-cards have zinging one-liners we often think but aren't supposed to say out loud, such as:
Funny, yes … but probably not appropriate for your customers. Instead, follow this simple thank-you note formula:
5 components of a killer thank you note
Greet your customer by name.
Express your gratitude, clearly stating why you're sending the note.
Include details about why enjoyed your experience with this customer … this is a prime opportunity to be specific and thoughtful.
Repeat your thanks.
Close with a signoff (Best, Yours Truly, Kindest Regards, Warm Regards, Cheers, ♡ — or whatever feels right for you and your company!) and sign your name.
Here's several examples:
Dear Christine,
I just noticed you've been a Help Scout customer for FOUR YEARS. Wow! Thank you for sticking with us for so long, and for all the feedback you offered when we were beta testing the Plus Plan. I hope it's working out for you — and you know if you have any questions we're always here! Thanks for always being such an awesome customer.
💚,
Mo at Help Scout
Hey Arthur!
Thank you so much for bringing your whole team onboard with Help Scout while you were testing out different help desks. Your advocacy means the world to us, and it was a true pleasure working with your team during the process — you even inspired us to make a fix that improves our product for thousands of other people! We're so stoked you've chosen Help Scout — thanks for giving us the opportunity to grow with you. See you at SupConf next spring! :)
Cheers,
Tim and Your Friends at Help Scout
Hi Abby,
Thanks for joining the webinar this week, and for your thoughtful comments about the role of customer support in cyber security — I've always admired how you and your company are real leaders in that space. I know you're working with Neil on an upgrade from the Standard to the Plus plan (that's fantastic, congrats on your team's growth!), but please always let me know if I can be of any assistance too.
Best,
Mat at Help Scout
p.s. You mentioned your son collects stickers so I threw a few in the envelope for him … here's hoping they go in his sticker book and stay off the walls this time. ;)
It's a fairly simple formula: use their name, say thanks for a specific reason, and sign off with sincerity. That's it!
Choosing your stationery
Need help shopping for the right thank you card? We're fans of the personalizable thank-you cards and stationery at Pinhole Press. Use your company's logo, or that cute group photo from your last team retreat.
We also adore the truly special pop-up cards from Lovepop. This 2015 Shark Tank winner creates beautiful 3-D creations that, at $8-$13, are more gift than card.
If you like more creative control, you can print your own custom-designed cards and envelopes — that's what we do here at Help Scout. If you choose to create your own stationery, work with a designer who's familiar with the printing process and can provide advice on card stock, dimensions and the various printing options available (depending on your budget).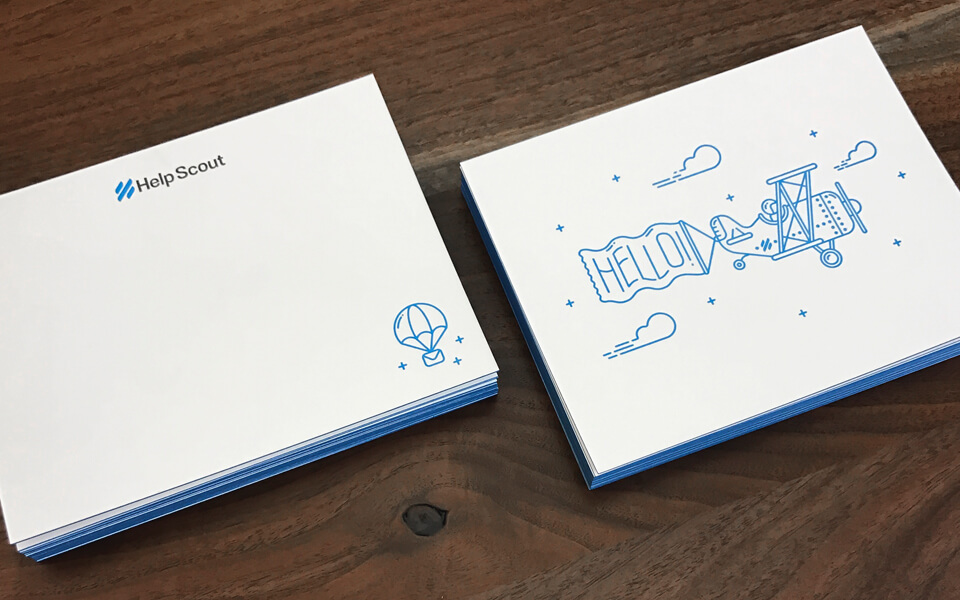 Our note cards are printed by Mama's Sauce on 100-lb duplexed cover stock with plain white matching A2 envelopes. Embossing, debossing, foil stamping and letterpress are all fun things if you have a bigger stationery budget.
Subscribe to the Help Scout blog!
Join the gang of savvy subscribers who receive original, well-researched articles about company culture, customer service, and building a better business every week.
Is it cheating to use thank-you note apps?
If you have more cards to send than you have people/time to handwrite them, one of the following options is certainly better than nothing at all!
Postable
Postable prints your custom message in one of its patented handwriting fonts on its 100% recycled cards, and stamps and mails the cards for you. Your customers might be able to tell the "handwriting" isn't real, but the prices are reasonable enough ($1.25 per card for 10 or more cards) so we advice to order a couple, especially if you want to keep your message detailed and personal.
Handwrytten
Handwrytten's robots (yes, actual robots) "handwryte" your custom message in real ink. Prices start at $3 and include postage.
FeltApp
FeltApp lets you scrawl messages on your iPhone or iPad in your own handwriting (although anyone who's ever written on a screen, even with a stylus, knows it can be tricky to replicate pen-to-paper writing). Choose a photo from your own library, and trace your message and the address (even the envelope is handwritten). They take care of the mailing. The price is $3 per card, or $1 more for international shipping.
A gesture well worth the time
You can exhibit sincere gratitude in a well-worded email, but there are many occasions when you should make the extra effort to mail a real note. Handwritten thank-you notes convey a sincere and heartfelt gratitude that an email simply can't.
Sending personal thank-you notes for every transaction or special occasion isn't necessarily always scaleable, and the ROI on acts of kindness can be tricky to justify in a spreadsheet. Extending sincere, old-fashioned gratitude, however, has an esteemed place among other high-touch practices that don't scale — but that still work.
Thank-you notes keep a line of communication open between you and your customer, and they keep your name in their mind. Sending a handwritten thank-you note is always worth the few minutes it takes.