The digital revolution had sweeping effects on consumer behavior and shopping patterns. Today's customers are driven by deals and convenience, and their expectations are growing at a breakneck pace.
Data from Salesforce shows that 67% of customers say their standards for good experiences are higher than ever. What's more, 80% of customers say the experience a company provides is as important as its products and services.
That said, it's hard to keep customers loyal.
That doesn't mean that customer loyalty is dead, however. It means it's being reinvented for the digital age. The next decade will reward caring companies that customers trust.
So the question is: What can companies do to retain customers?
Table of contents:
What is customer retention and why is it important?
Customer retention is a variety of activities aimed at keeping customers for the long term and turning them into loyal buyers. The end goal of customer retention is transforming first-time shoppers into repeat customers and maximizing their lifetime value (LTV).
Being mindful of customer retention matters because it helps you understand how loyal and satisfied your customers are, how strong your customer service is, and if there are any red flags that may turn off potential customers.
The ecommerce landscape is very competitive, and it's becoming increasingly harder to earn customer loyalty. The good news is that focusing on online customer retention pays dividends in the long run:
How to calculate your customer retention rate
Customer retention rate (CRR) shows the percentage of customers that a company has retained over time.
To calculate your CRR, you should subtract the number of new customers acquired (N) from the number of customers remaining at the end of the period (E). To calculate the percentage, divide that number by the total number of customers at the start (S) and multiply by 100.
Customer retention rate is the flip-side to customer churn, which represents the percentage of customers a company has lost over a specific period.
9 online customer retention strategies
A race has begun: The ultimate online shopping experience is the finish line, and the reward is more loyal customers by the day.
We've compiled a list of nine proven online customer retention strategies from some leading ecommerce brands to inspire you and show you how to apply them to your store.
1. Collect feedback with customer surveys
The best way to find out what customers think about your business is to ask them. Using customer surveys to collect feedback and diagnose potential dissatisfaction is a great starting point to understand what needs to be fixed in your overall online experience.
Customers appreciate it when you ask them for their opinion. It means you care and that you're ready to go the extra mile to keep them.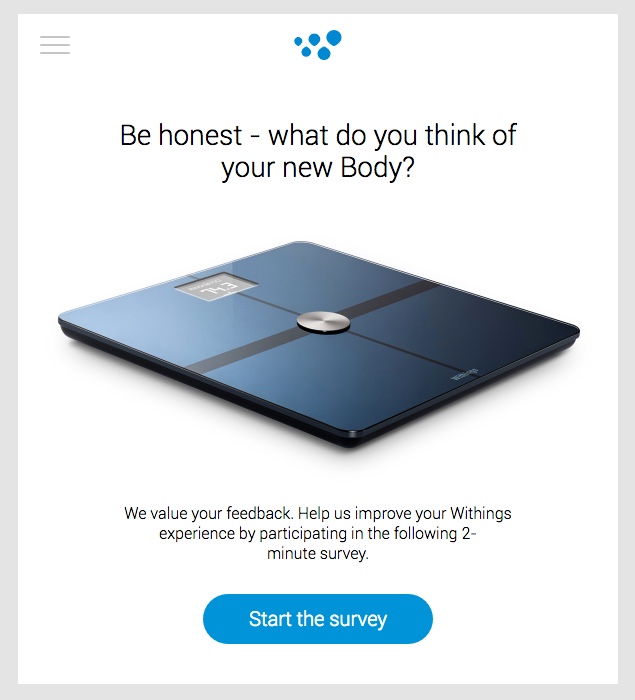 Withings uses customer surveys to learn more about customers' experiences with their products.
Source: Really Good Emails
2. Improve customer service
In this digital-first world, ecommerce customer service is not a nice-to-have, but rather a prerequisite for success. However, creating customer service just for the sake of having it is not enough. Improving customer service is a never-ending process.
Making sure that customers can easily navigate and get responses to their questions quickly will result in happy customers that stick around. One of the best tactics when it comes to customer service is offering self-service in the form of a knowledge base, where customers can easily find answers on their own.
3. Communicate with your customers
Constant communication with customers via their preferred channel is the key to online customer retention. Today, there are 3.9 billion email users worldwide, and even though social media is very popular, email is still customers' preferred communication tool. It's also the best performing channel with a reported $44 return on investment for every $1 spent.
Regardless of where you communicate with customers, it's important to be consistent and to leverage personalization whenever possible for spot-on relevancy.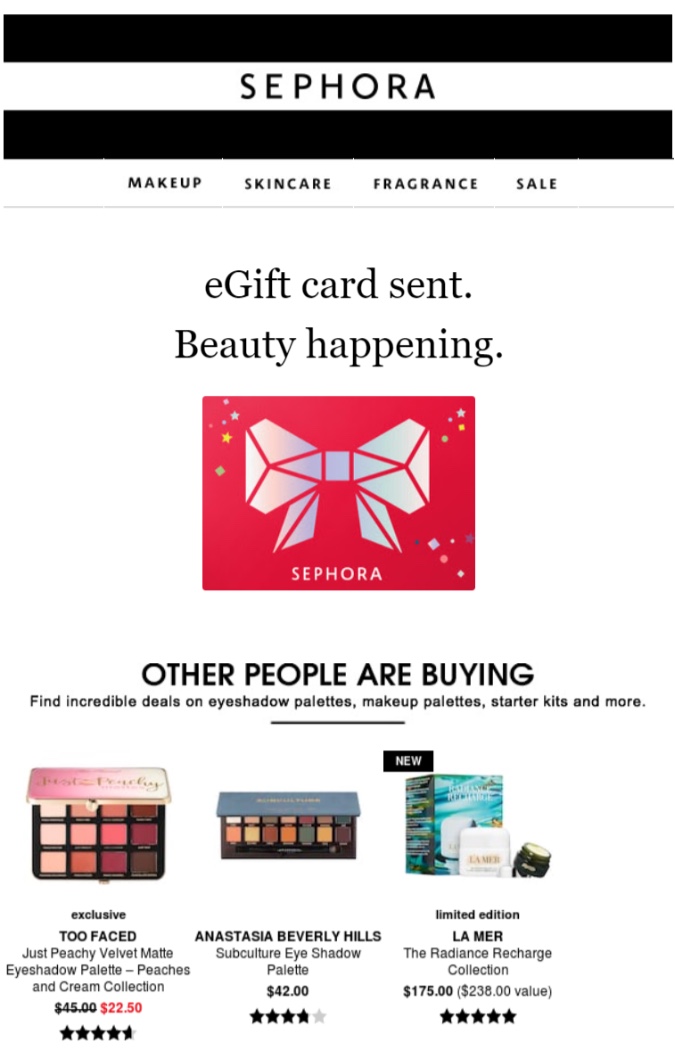 Sephora uses order confirmation emails for upsell opportunities.
4. Leverage a customer loyalty program
Rewarding customers for repeated purchases over time is one of the most widely adopted tactics for customer retention. Besides the fact that it drives customers to buy more, loyalty programs also provide invaluable insights into shoppers' habits and purchasing histories.
Having a unique approach and being thoughtful of your customers' wants and needs when designing your loyalty program is the secret sauce for success.
Lancome has a three-category loyalty program.
5. Leverage personalization
A brand's success depends on the ability to offer a unique, personalized shopping journey for the customer. According to Salesforce, "79% of customers are willing to share relevant information about themselves in exchange for contextualized interactions in which they're immediately known and understood."
Getting customers to create an account is a great way to learn more about them and offer them a personalized experience that will encourage them to click the "add to cart" button. Another simple way to add a sense of personalization is by using product recommendations based on customer behavior.
6. Offer fast delivery and easy returns
When it comes to ecommerce, delivery and returns are two of the biggest consumer concerns. The way you manage last mile delivery can help you stand out from the competition and retain customers.
However, there will be situations when customers want to return and replace the product. Simplifying that process will give your customers peace of mind and also encourage them to come back to your ecommerce store.

The DTC furniture brand Interior Define has a 60-day return policy.
7. Use subscriptions to keep customers coming back
Another customer retention strategy is using a subscription model. According to McKinsey, "15 percent of online shoppers have signed up for one or more subscriptions to receive products on a recurring basis." To get customers on board with the idea of a subscription, consider offering something special and exclusive or a product that they'll constantly use and replenish.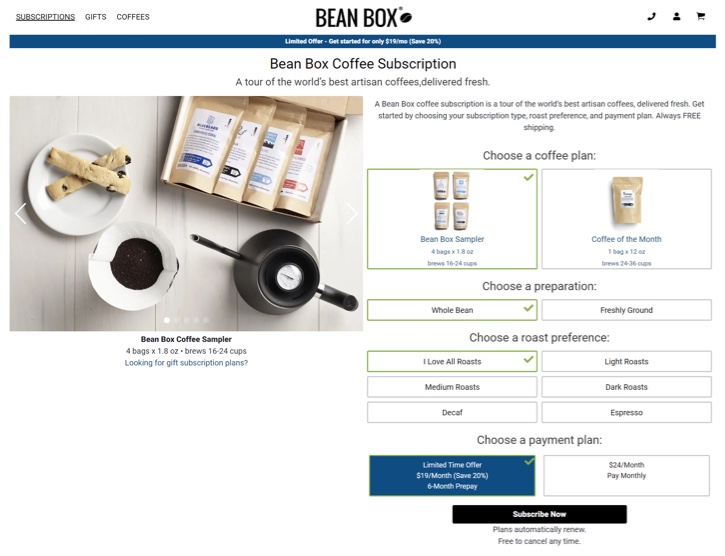 Bean Box offers different plans for their coffee lovers.
8. Turn negative into positive
Being persistent pays off. Don't give up on customers who leave your website before checkout. According to Business Insider, up to 60% of abandoned merchandise can be recovered. When using an abandoned cart email, always have in mind that the end goal is to recover the customer, not the sale.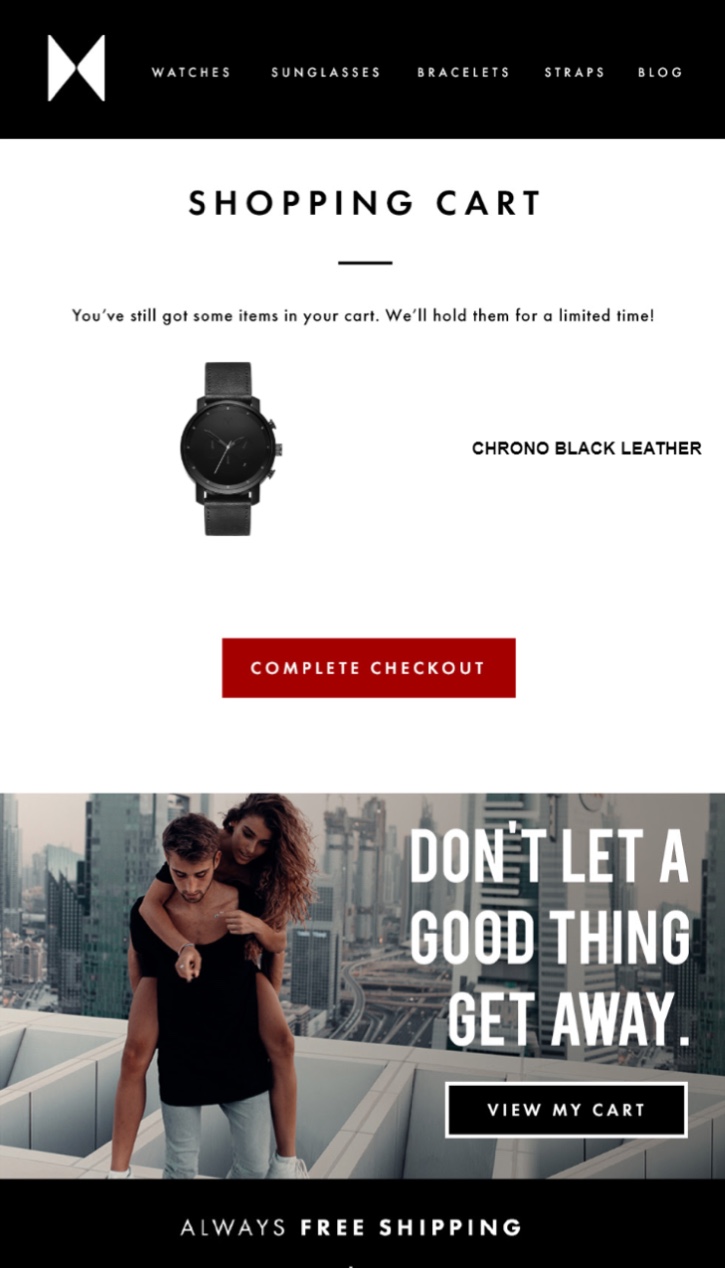 MVMT uses an abandoned cart email to remind customers to finish the purchase.
Another great tactic is to solve customer complaints and turn them into loyal customers. Staggering data shows that "95% of unsatisfied customers will return to a company if it manages to solve the issue quickly and efficiently," so be proactive!
9. Over deliver on your promises
To wrap up the list, we'll just say this: Over deliver on your promises. Customer expectations have hit all-time highs, and the only way to be competitive is to be willing to go above and beyond to create the best online shopping experience. That is the only way to keep customers coming back for more.
Begin the journey
Building loyalty and nurturing long-term customer relationships pave the road to success, but this doesn't have to be a daunting process. As the saying goes: A journey of a thousand miles begins with a single step.
Leveraging some of the customer retention strategies above can help you transform first-timers into loyal customers and maximize their LTV.
Join 251,101 readers who are obsessed with delivering great customer service.
Kaleigh Moore
Kaleigh Moore is a freelance writer for e-commerce platforms and the software that integrates with them.